If you're looking for a new sport to try out this Summer, you can't go past wakeboarding. One of the best and most popular sports on the water, wakeboarding has rose in popularity over the years, and rightfully so. It doesn't matter how old you are, wakeboarding is for everyone. It's great for kids, but also for teenagers and adults. There's never a time too late to start wakeboarding. Wakeboarding gear doesn't have to break the budget, either (so that's no excuse!). There are a lot of great reasons to start wakeboarding. Here are our top 13 reasons why you need to start wakeboarding:
It's Easy
We know it might look complicated and hard to do, but really, with a bit of basic knowledge and training, you'll be wakeboarding in no time. You don't need a huge amount of upper body strength, in fact a lot of the work is in the cable. A lot of the time, you just need to hold on and enjoy the ride!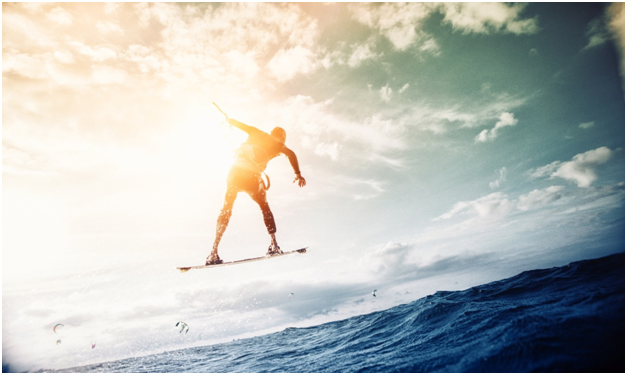 Every Time is Fun
No matter how you look at it, wakeboarding is fun. Whether you are trying to perfect a certain move or whether you can't stay up on the board for longer than two minutes each time, you cannot deny how fun it is to spend the day in the great outdoors on the water. Even if you're staying in the boat, you'll be sure to have a great time.
Meet New People
The wakeboarding community is a thriving one and you'll be sure to meet some great new people. It's as easy as going out on the water and taking up the sport. You'll surely be approached by other wakeboarders to talk about the sport. Who knows, you might even make some new great friends this way!
It's Great Exercise
Without a doubt, wakeboarding is a great form of physical activity. The sport will definitely work your back and leg muscles and core strength, which can be great for those looking to be more active without having to head to the gym for a traditional workout. Incidental exercise is great for those who don't necessarily like "exercise", and wakeboarding certainly won't feel like a normal workout routine.
It Develops Skills
Like any new activity, it can take some time to master wakeboarding. However, the sport can help you to develop patience, goal-setting skills and hard work. Even if you're aiming to stay vertical for a longer period of time, you will certainly be honing these key skills.
It's a Growing Sport
As mentioned, wakeboarding is a sport that is gaining popularity as the years go by. As more people discover this great sport, you will find that it becomes more popular and there will be more people to enjoy the sport with. At the moment, the wakeboarding community is very supportive and friendly, and this can only get better and grow along with the sport.
You Don't Need a Boat
Although it's ideal to have your own boat, it isn't a necessity. There are plenty of areas that hire boats for your use for the day or even drive the boat for you. Some places will allow you to have a turn at wakeboarding, just like a ride at a theme park. Once your turn is over, you can line up and have another turn.
Wakeboarding Isn't Dangerous
A lot of people believe wakeboarding is a highly dangerous sport. However, like all sports, there are opportunities to get hurt, which is why it's always important to understand the safety aspects of the sport. With practice, you will understand the sport better and learn how to enjoy it safely.
You Don't Have to be Fit to Start
As in the above point about it being great exercise, it doesn't mean you have to be physically fit just to get started. You certainly don't need to hit the gym and lose weight before trying out wakeboarding. Wakeboarding involves a wakeboard board, a boat and the person wakeboarding. The whole sport doesn't come down to you, the user, so you should understand that if you're unfit or not, most of the hard work is done for you. The best thing to do is just try it out and see how you go.
Wakeboarding Isn't an Expensive Sport
When you think about all of the wakeboarding gear you need to get started, it's not a very expensive sport to get started in. You can often hire wakeboarding gear if you want to try it out first, but overall, it's a decently priced sport. The most expensive gear for the sport is of course, the boat. However, you don't necessarily need to buy a boat to get into wakeboarding thanks to hiring options.
You Don't Need to Live Near an Ocean
You don't need to live near the ocean to be able to enjoy wakeboarding. Really, you just need a large body of water, whether that be a river, lake or estuary. This is definitely a huge plus for those who live inland or those who can't get to the coast easily.
Look Amazing
Wakeboarding a great sport for many reasons, and another great reason, as shallow as it may seem, you can look amazing whilst doing it. Even if you're not doing any fancy tricks (although that will score you extra brownie points), you will look pretty super as you travel behind the boat at full speed. On top of that, there's a huge range of wakeboards and other wakeboarding gear such as your boots that are very stylish and will look great on the water.
Develop Key Health Benefits
As well as getting vital exercise into your day, you will discover a number of other health benefits to wakeboarding. Such aspects include improved flexibility in your hands and feet, improved reaction times and better hand-eye coordination. It's also a great sport for improving your swimming skills, balance, mental concentration and the feel good release of endorphins.
There are plenty of great reasons to get started with wakeboarding. As well as improving your overall health, you can get more social, have a lot of fun and enjoy a brand new sport. Wakeboarding is for anyone, of any gender and any age, so don't be afraid to take up one of the best water sports around.
If you're looking for quality wakeboarding gear online, Pavati can certainly help. Check out their online store at https://www.pavati.com.au/wetsounds-wakeboardsforsale-slingshotwakeboards.html or give them a call today on 0427 645 362.