It is that time of the year when tennis fans from around the world glue their eyes to their TV to watch their favorite players giving their best for the Grand Slam title of the year.
The question is how to watch Australian Open live where the transmission is geo-restricted? The answer is simple. You can enjoy Australian Open live streaming on your devices even when you are on the go. In this guide, we will discuss how you can watch Australian Open live online and on which channels.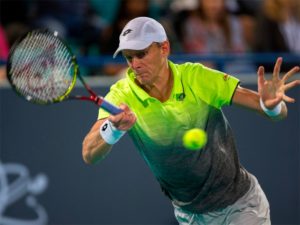 Australian Open 2018 – What We Know About It So Far
Australian Open is a tennis tournament held every year in Australia. The event has been around for over a century now, and ever since it has produced amazing legends in the world of tennis.
Last year, two legendary players, Roger Federer and Rafael Nadal, came face-to-face for the Grand Slam title, with Federer winning the title for himself. This year, he will be defending his Grand Slam title.
The tournament is scheduled to start on January 15, 2018, with the first match scheduled to be played at the Rod Laver Arena court. The starting matches will feature legends like Grigor Dimitrov and Rafael Nadal.
The tournament will be played in two sessions, i.e., day and night. And this time, there will be a few seconds time limit between points.
The final match of the tournament is scheduled to be played on January 28, 2018.
Channels on Which You Can Watch Australian Open Live
Before moving on to the how-to guide, let's first check out what channels are broadcasting the Australian Open live.
When it comes to Australian Open, Channel 7 is the official sports channel that broadcasts the event live. You can also watch the tournament live on channel 7two and 7mate.
Apart from that, there are also a good number of online streaming channels where you can watch the matches live. Here's a list of some channels:
Seven
Eurosport
Bein Sports
TSN | RDS
British Euro Sports
Unfortunately, the problem with these channels is that you can't access them outside the location where they are broadcasted. For instance, 7live broadcasts live coverage of the matches in Australia only. So, if you are not present in Australia, you can't access Seven and hence you can't enjoy Australian Open live streaming for free.
But don't lose heart. There's a way out of this problem. VPN!
How to Watch Australia Open Online From Anywhere
A VPN is your last resort when it comes to accessing online streaming channels from anywhere. A VPN empowers you with the ability to spoof your real location and connect to the Internet with an IP of your choice.
If you try to access channel 7live from outside Australia, your access will be blocked because of your country's IP address. However, when you set up a VPN, you can mask your real IP and access channel 7live using an Australian IP address.
It is not only the channel 7live but you can also unblock many other online sports channels from anywhere with a VPN.
Let's see how you can use PureVPN to access Australian Open live online from anywhere.
First of all, you will need the PureVPN subscription
Once you have the application, install in on your desired device
Connect the VPN to your desired location such as Australia (for channel 7live)
Download 7live application and enjoy Australian Open live streaming online
Enjoy Australian Open Live Streaming
That's all there is to know when it comes to watching your favorite sport live from anywhere. Enjoy Australian Open on the go.